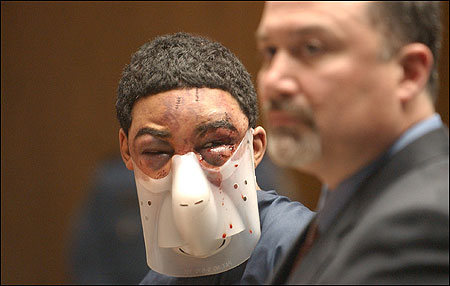 The Rhode Island Supreme Court has rejected an appeal by Esteban Carpio of his murder conviction. In a nationally notorious case, Estaban Carpio was convicted of murdering Providence Police Sgt. James Allen inside the Providence police station in 2005. Police acknowledge that they interrogated Carpio for several hours into the night, without a lawyer, and that they had left Carpio in an interrogation room with a lone interrogator, Police Sgt. James Allen, whom Carpio ultimately killed with the sargeant's own gun. Then, Carpio jumped out of a window and escaped.
After a manhunt, the police found Carpio and thereafter ensued the events that left Carpio's face so badly beaten that police had to put a plastic mask over his face in order to make his battered head even vaguely presentable (although still shockingly ghastly) for his first court hearing. In this blog's opinion, the police beating of Esteban Carpio's face, and their all-too-apparent shame at allowing the evidence of that beating to be seen in court, made Esteban Carpio into a national symbol of pretrial and extra-judicial administration of police vigilante punishment.
The Rhode Island Supreme Court points out the "disproportionate number" of officers who retook Carpio into custody (
see pages 6 and 7 of their decision
), without directly mentioning the metaphorical hamburger that was Carpio's face when he was first presented in Court.
Several officers chased Carpio, brought him down, and attempted to subdue him. A violent struggle ensued. Despite the disproportionate number of officers and their repeated commands to Carpio to cease resisting, defendant kicked and flailed, resisting arrest and attempting to flee. Eventually, the officers were able to handcuff Carpio and secure him in the police cruiser.
The above description makes it clear that there was a fight and explains the damage to Carpio's face by arguing that Carpio ignored police "commands" to stop resisting. If such was the case, the police seemed to have followed or interspersed their "commands" with a significant number of intentional blows to the face, perhaps and conceivably with police fists, billy clubs and even their feet.
That seemingly very intentional and violent beating, and the notorious police attempt to cover up the evidence with a white Batman mask, contributed to the founding of the Police Brutality Blog in 2007. As
we pointed out here back then,
Regardless of what police believe a man to have done, they should never beat him so badly that they feel compelled to cover up the results of the beating before they present the man in court and before the news media.
When the police have to cover the evidence of their force with a plastic mask, that is the essence and conclusive proof of a level of force which
even they believe
to have been excessive. Instead of engaging in a literal "cover up" of their brutality, police should let the public see their bloody confection, to see whether police still retain the public and judicial sympathy that they would like to have in a situation such as this.
The
Providence Journal
reported today:
BREAKING NEWSR.I. Supreme Court denies appeal of man convicted of murdering Providence police detective
Comments

24

| Recommend 3
May 14, 2012 11:31 am
By Amanda MilkovitsPROVIDENCE, R.I. -- The man convicted of murdering Providence Police Sgt. James Allen inside the police station in 2005 lost his appeal to the Supreme Court.
ESTEBAN CARPIO
Related

As Justice Maureen McKenna Goldberg wrote Monday's decision to deny and dismiss Carpio's appeal, she noted "his calm, calculated, and often cunning behavior throughout that fateful day" on April 16, 2005.
"Any hope of the defendant's rehabilitation is far outweighed by his danger to the community and the indelible scar this offense has left upon the law enforcement community and the people of Providence," Goldberg wrote.
This Rhode Island Supreme court decision probably determines conclusively how Esteban Carpio will be punished for his offenses. It leaves entirely open the question of who will punish the Providence Police Department for what it did to Carpio's face and for its bold, shocking and probably unprecedented efforts to literally "cover it up." Were it not for this abomination, which is symptomatic of too many others, then the public would likely have felt only sympathy for the entire Providence Police Department at the loss of one of its officers.