Let the Tasering begin! Don't Tase Me Bro!



H/T - Minnesota public radio


St. Paul police order tasers for every police officer.
They will purchase 370 more tasers just in time for Republican National Convention.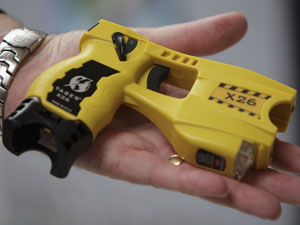 ST. PAUL -- St. Paul police are about to issue Tasers to all 370 officers on the force. Police say they are a safe way to stop a potential threat, but some people say Tasers are dangerous and sometimes deadly. Police spokesman Tom Walsh says the Taser is stronger than a verbal order and less dangerous than a gun, especially in the case of a violent or unstable subject.

Currently, 140 St. Paul police officers carry Tasers. The addition of another 230 will bring the total to 37- -- one for every officer on the force.vThe 230 new Tasers will cost $210,000 -- paid for with money seized during drug raids or other special investigations. The St. Paul City Council will vote Wednesday on whether to authorize the purchase of the Tasers, which they are likely to do. Four years ago, St. Paul police unveiled Tasers at a media event and now the Taser is in high demand. But questions about Tasers can't escape law enforcement.


Scott Selmer, of the Urban League in St. Paul, believes Tasers could cause unnecessary harm if used too soon. "Sensitivity training is critical," Selmer said. "Have some thought that goes into any encounter (police) may have."

Shortly after the new shipment of Tasers arrives in St. Paul, the Republican National Convention will come to town, and with it, protestors who may or may not get violent. More on St. Paul Police Orders Tasers For Every OfficerAAPP: One has to wonder what are the plans for the Democratic National Convention if the superdelegates and the DNC get it all wrong?

How many tasers will be deployed? Don't Tase Me Bro!